PEOPLE'S ADVOCATE FOR CHILD'S RIGHT
REPORT ON THE ENOC-UNICEF SURVEY: Challenges and responses of Ombudsmen and Commissioners for Children at COVID-19.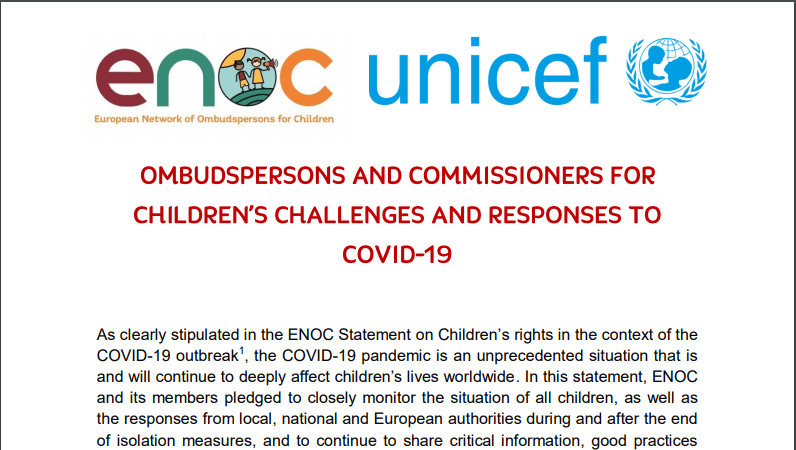 In dealing with the COVID-19 outbreak, Ombudsmen and Commissioners for Children across Europe have faced a new challenge: how to continue to support children's rights in a context of emergency restrictions and lockdown measures. The COVID-19 crisis has had disastrous impacts on children's lives and rights; and will most probably have far-reaching consequences for children. The outcomes
of ENOC-UNICEF survey and the online session, which was also attended by the Child Ombudsman of the Republic of Moldova, show that the most vulnerable children (children in poverty, children in institutions, disabled children, migrant children, etc.) have been and will continue to be the most affected by the COVID-19 crisis.
The existing vulnerabilities have been exacerbated and inequalities have become more visible, especially regarding online education. The emergency situation has made visible a systemic failure to take into account children's rights and wellbeing when proposing restrictive measures in some countries. It highlighted the lack of coordination and integrated approaches to children's wellbeing. Throughout this unprecedented crisis, the role of Ombudspersons and Commissioners for Children have been more essential and even strengthened, while offices had to adapt their working methods and their activities to these new challenges in order to continue to protect children and young people.
Survey on Ombudspersons for Children's responses to COVID-19 
More details as well as the full report following this survey can be accessed at the following link: